Update: All American Burger Massapequa has Reopened!
All American is currently open daily from 11 Am-8 PM. They are following Social Distancing procedures and offering contactless pickup. Orders can be placed outside and paid for via credit card!
All American Burger Closes Amid Pandemic
Have you tried to grab a quarter pounder with cheese and vanilla shake to survive the quarantine? If you have, you probably found that All American Burger was completely empty when you arrived.
The iconic Massapequa Restaurant All American Burger has temporarily closed its doors to slow the spread of Coronavirus within the Massapequa Community. All American Burger closed down at the beginning of the mandated Social Distancing period after being open for the first couple of days.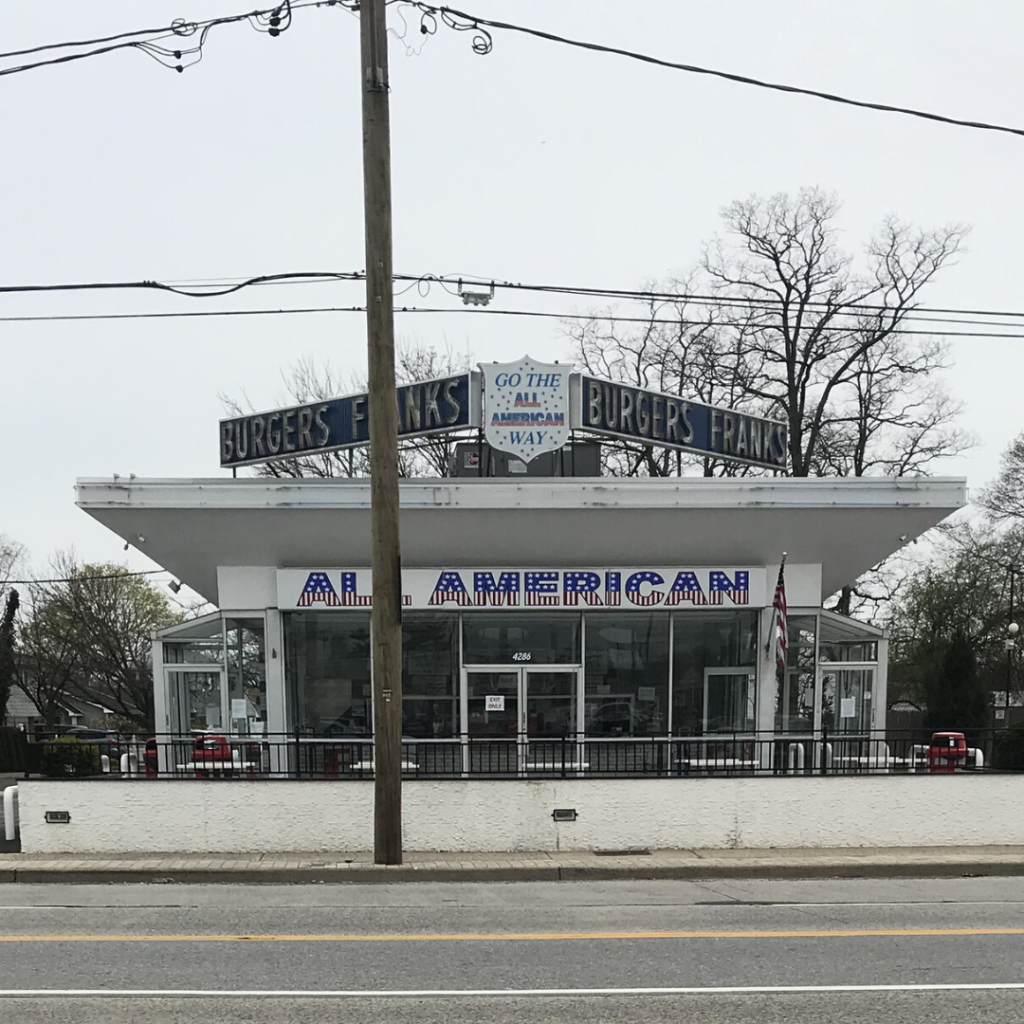 Why Did All American Burger Close?

Although restaurants have been declared an essential business in an effort to minimize the impact on owners, All American Burger decided to close because of the small size of the ordering and waiting area.
The interior of the restaurant is notorious for looking like the Krusty Krab in the first episode of Spongebob, which of course is not ideal when trying to contain the spread of a highly infectious disease.

Even though it's disappointing a neighborhood favorite had to close its doors, this decision was made for the benefit of everyone's health and to comply with various guidelines put in place by the CDC for going out in public.

As you can see by viewing the following Social Distancing Guidelines, the decision to close was easy:
If you are sick or have any symptoms of COVID-19, Stay Home. These include fever, coughing, and trouble breathing.
Practice Social Distancing- Keep at least 6 feet away from others, even outdoors
Avoid any kind of close contact (Shaking Hands, High- Fives, Hugging)
Avoid contact with surfaces that are regularly touched, such as handrails and doorknobs
When Will All American Burger Reopen?
Although it is currently unknown when All American Burger is going to reopen, it is safe to assume it will be open as soon as the Social Distancing mandates have been lifted by New York State officials and it is safe to do so.

At the time of this writing, New York State has extended its "pause" until May 15th. This means that all non-essential businesses will remain closed until this date at the minimum.
Even though All American Burger is technically allowed whenever they want (being declared as an essential business), All American Burger will likely remain closed until it is safe to come within 6 feet of others because of its small interior area.

We can only hope that they decide to re-op with new procedures that are able to keep everyone safe, such as curbside pickup and takeout. Until then, only time will tell until All American Burger will reopen.
In the meantime, check out our Survival Guide for nutrition facts, parking tips and more. For your convenience, we listed the restaurant hours below as well so you can beat the crowd when it reopens:
All American Burger Standard Hours:
Saturday: 10AM – 10PM
Sunday: 11AM – 9:30PM
Monday: 10AM – 10PM
Tuesday: 10AM – 10PM
Wednesday: 10AM – 10PM
Thursday: 10AM – 10PM
Friday: 10AM – 10PM
Saturday: 10AM – 10PM
Sunday: 10AM – 10PM
Massapequa Restaurants That Are Currently Open
Most Massapequa Restaurants have remained open during the Coronavirus Pandemic by implementing new policies and procedures that allow them to safely provide the community with their delicious foods.
Several Massapequa Bars have been taking advantage of the temporary rules allowing the delivery of alcohol and have even been offering discounts on large quantity drinks that otherwise would not be available.
If you are looking to order takeout or curbside pickup from your favorite Massapequa Restaurant, we recommend to call them directly to find out if they are open. Be sure to call your favorite Massapequa Bar to see if they are offering takeout or curbside pickup for alcohol as well!