Who Is Brian Baldinger?
Brian Baldinger is a Massapequa High School alumni and former NFL football player. After graduating from Massapequa, he played college football at Duke. He has two younger brothers who also graduated from Massapequa High School and played in the NFL.
Brian Baldinger NFL Career
Baldinger started his NFL career by playing for the Dallas Cowboys after going undrafted in 1982. His rookie season, he managed to play in 4 of 9 games with most of his playing time coming from Special Teams positions.
The following season, Baldinger received playing time at both the Center and Guard positions. He played for the Dallas Cowboys for five seasons, being utilized as a plug and play player for the various needs the team had at the time.
Baldinger then signed with the Indianapolis Colts in 1988 as a free agent. He was on the Colts for a total of three seasons, playing 13 games at Center when starter Ray Donaldson was injured during the 1991 season.
Following the 1991 season, Baldinger once again moved to a new team as a free agent, agreeing to terms with the Philadelphia Eagles. He would replace starter John Hudson, who had suffered an injury, for a majority of the 1992 season. The following year he would start 4 more games for the Eagles in place of Eric Floyd.
Brian Baldinger started a total of 48 games over the course of his NFL career.
You may know Brian Baldinger as an NFL broadcaster, as he has bounced around as a color commentator for several networks. He currently has many roles in media across networks such as NFL Network, Fox Sports, Compass Media Networks, and Entercom Radio, and SKY Sports UK Analyst.
Brian Baldinger Twitter
As a current broadcaster, Baldinger makes good use of his Twitter account to connect with his audience, where he has over 220,000 followers. He uses Twitter to cover NFL players, teams, news, and more.
He also breaks down film of college prospects leading up to the NFL draft to inform the average fan about possible hidden gems who we may be watching on television for the next decade. Baldinger calls this series of film study as "Baldy's Breakdowns" or #Baldysbreaksdowns on Twitter.
Follow @BaldyNFL on Twitter before the next NFL season starts so you can be in the know. It may just help you win your Fantasy Football League!
What Are Baldy's Breakdowns?
Many current NFL fans know Massapequa native Brian Baldinger for his "Baldy Breakdowns". Baldy's Breakdowns are a series of NFL film study videos that show Baldinger each week of the NFL season.
Each segment focuses on a player or team from the previous Sunday and goes into depth about the techniques and strategies used by the players. This inside look is great insight for the average NFL fan who likely has never heard many of the terms Baldinger uses unless they have played football at higher levels.
Brian Baldinger Finger Injury
Brian Baldinger's finger is notorious for being distorted following a play where his pinky got caught up in the facemask of defensive tackle Randy White. Many people are constantly reminded of this gruesome injury when they see Brian Baldinger's finger during broadcasts.
Many NFL players suffer from injuries throughout the course of their careers as it is part of the sport. Serious injuries such as ACL tears, broken bones, and torn ligaments are commonly reported on Monday morning following games.
However, finger injuries standout as they rarely return to shape when they heal. If you don't believe us, just search for "NFL Player Fingers" on Google. (Warning: Disturbing Images)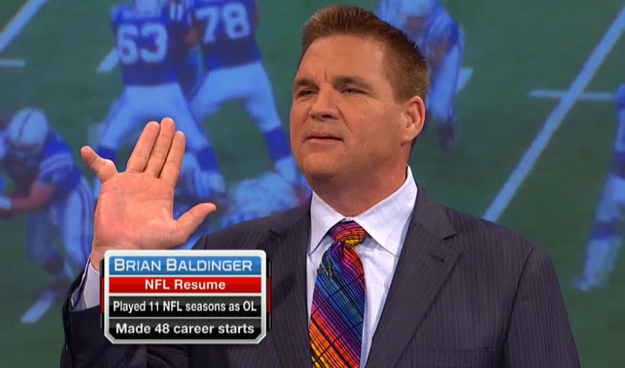 Rich Baldinger
Rich Baldinger is one of Brian's younger brothers. Like his brother, he also graduated from Massapequa High School and played in the NFL. Rich Baldinger played his college football with his other brother Gary at Wake Forest before moving onto the NFL.
Rich Baldinger would go on to have a lengthy 12 year NFL career where he played for the New York Giants, Kansas City Chiefs, and New England Patriots. Like his brother Brian, he was an offensive lineman who shifted around in both tackle and guard positions depending on the team's needs. After retiring, he had a brief stint in broadcasting for CBS and the Big Ten Network.
Gary Baldinger
Gary Baldinger is another sibling of Brian and Rich, who also graduated from Massapequa High School. He was teammates with his brother Rich Baldinger at Wake Forest, where he was a defensive lineman.
Gary Baldinger played for 6 seasons in the NFL for the Kansas City Chiefs, Indianapolis Colts, and Buffalo Bills. He is most known for his time with the Kansas City Chiefs, where his brother Rich Baldinger played before him. 
His son, Brad Baldinger, is well known within the Massapequa Community. Brad Baldinger played quarterback for The Chiefs before moving on to be a 2 sport athlete at Denison University, playing both baseball and football.