Village of Massapequa Park
Village of Massapequa Park Guide
The Village of Massapequa Park and the Massapequa Park Restaurants, parks, and businesses located within the village are an essential part of the Massapequa Community.
The Village has its own rules, regulations, and policies that differ from the town of Massapequa Park from neighboring town Massapequa. The Village of Massapequa hosts several events throughout the year that residents enjoy.
The most notable being the annual Christmas Tree Lighting. Residents gather yearly on Front Street and Main Street to kick off the holiday season with friends and family, a tradition not many other towns can say they have.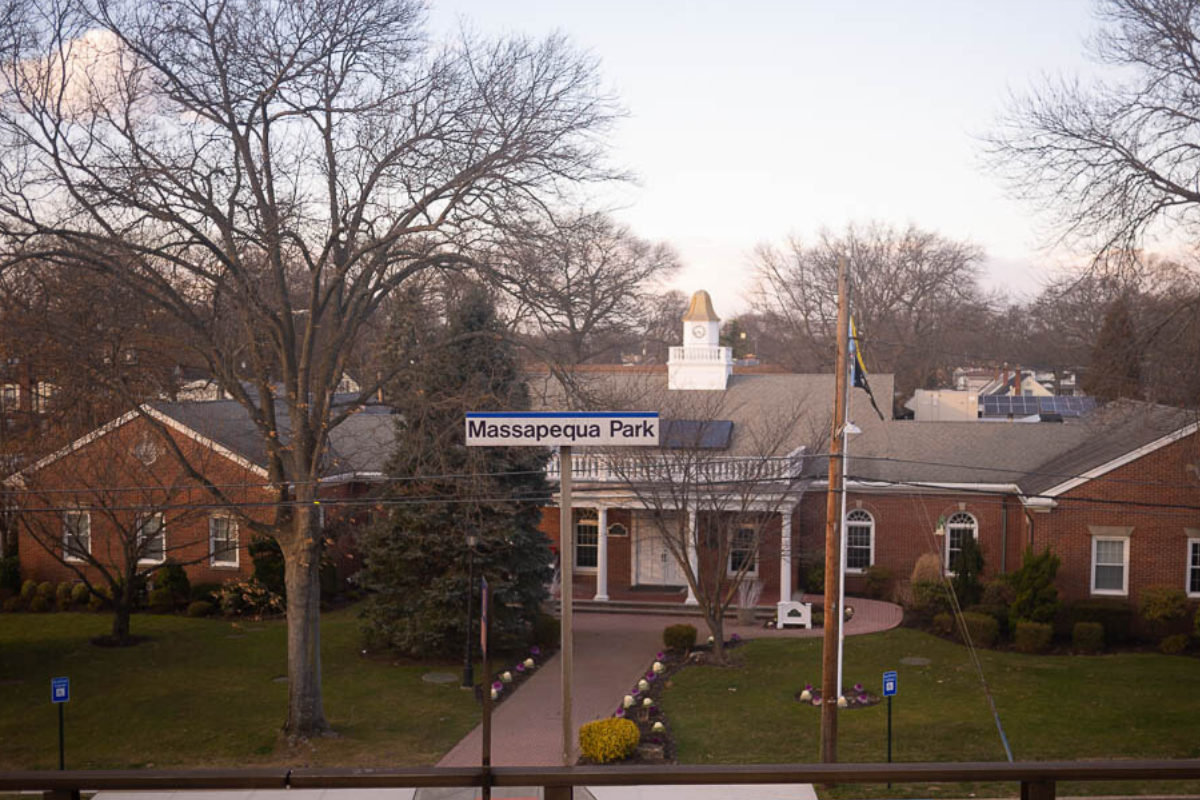 Village of Massapequa Park Town Hall
About The Village of Massapequa Park
The Village of Massapequa Park is one of the 534 incorporated villages in the State of New York. The 2.2 square mile area ranging from the Southern State Park to the Great South Bay was first incorporated as a village in 1931 and is 2.2 square miles. 
The first official mayor of Massapequa Park was Peter F. Colleran, whose name may sound familiar to those who enjoy Colleran Park.
The first Justice of the Village of Massapequa Park was Michael J. Brady. Does his last name sound familiar too? That's because the popular Brady Park was named after him.  
Village of Massapequa Park Emergency Policy Summary
If you have an emergency situation and need urgent assistance contact the appropriate organization:
General Emergency: 911
Fire Emergency:

Contact Massapequa Fire Department at

798-0040
Electric Emergency:

Contact PSEG Long Island at

1-800-490-0075
Gas Emergency:

Call National Grid Long Island at

1-800-490-0045
Summary of Village of Massapequa Park Snow Removal Policy
Having an effective snow removal procedure is essential for any village located in the Northeast United States. Due to the high number of vehicles parked along streets throughout a neighborhood such as Massapequa Park, the need for an efficient snow removal process is amplified. 
The snow procedures are put into effect in the event of heavy snow*. "Heavy Snow" is defined as a snowfall of 3 or more inches per Village of Massapequa Park Standards. 
The Village of Massapequa Park utilizes equipment to keep streets clear by prioritizing the roads used by emergency vehicles during heavy snowfalls. 
The Prioritized Emergency Access Roads include:
Lakeshore Drive

Park Boulevard

Clark Boulevard

Whitewood Drive

Harbor Lane
The rest of the streets in the village are cleared immediately after emergency vehicle access roads. It is your responsibility to keep your house number visible for emergency mail carriers. 
Important Note: For extreme weather emergencies, use the town's 24-hour telephone recording for updates. The number is 798-0244, Ext. 39. 
For information about the closing of schools within Massapequa School District, tune into radio stations such as WGBB (1240) and WHLI (1100). Do not call the school
Summary of Village of Massapequa Park Garbage Policy
Massapequa Park garbage collection is handled by the Town of Oyster Bay. The Town of Oyster Bay collects garbage twice a week and recyclable materials/garden materials once a week.
Garbage is collected on Monday and Thursday

Recyclable materials are collected on Wednesday
Important Notes About Town of Oyster Bay Waste Collection: 
All garbage must be placed in securely covered metal or plastic garbage containers. 

Do not use plastic bags for garbage as they can easily be compromised by animals.

Use plastic bags only for rubbish and leaves (No food items)
Garbage Containers and materials should be placed after 6:00 PM prior to the day of collection and brought in by 8:00 PM on the day of collection.  
What is classified as rubbish? 
The Town of Oyster Bay considers rubbish as any solid material being discarded. Some examples are metal, carpet, and ashes.
Containers of rubbish cannot exceed 32 gallons and weigh more than 50 pounds. Unusually shaped items such as branches, carpets, and large boxes must be tied into bundles that do not exceed dimensions of 4' X 2'.
The Town of Oyster bay conveniently collects up to three bulk items at a time during a  standard collection. Examples of bulk items include:
Mattresses

Refrigerators and Freezers (Doors Removed)

Furniture 

Most major appliances
Collection Limit: 10 items not exceeding 200 pounds; not including bulk items 
Waste Material Disposal
These items must be taken away by the contractor or the resident as the Town of Oyster Bay does not collect them. These materials include, but are not limited to:
Broken stone or concrete 

Large timbers

Heating materials (boilers, radiators) 

Windows 

Roofing
Please Note: Telephone Directories and Christmas trees have special collection procedures.  
Leave Disposal Policy: 
It is illegal to burn leaves or sweep them into the street in the Village of Massapequa Park. 
Leaves must be placed in plastic bags and left out for collection on collection day for recyclables. During the peak of leave collection season, the Town of Oyster Bay uses a special leaf collection program. The town of Oyster Bay notifies residents about program regulation. 
Please Note: Bags of leaves are considered containers in regards to the 10 container policy. 
Questions or Concerns? Contact the appropriate organization:
Garbage / Rubbish |  677-5848
Recycling | 755-1839
Pollutants | 677-5784
The Town of Oyster Bay annually provides residents with a calendar informing them of all garbage collection holidays.
Frequently Asked Questions
Which Congressional District is the Village of Massapequa Park in?
The Village is in the Second Congressional District.
Which State government district is the village of Massapequa Park in?
The village of Massapequa Park is in the 9th Assembly District and the 8th Senatorial District.
How many people live in Massapequa Park?
Per the 2010 census, the population of Massapequa Park was 17,036. However, it is currently slightly higher at around 17,266.
Where is the Village of Massapequa Town Hall?
Massapequa Town Hall is located at 151 Front Street, Massapequa Park, NY, 11762.