All American Massapequa Is A Not So Hidden Gem Of Long Island
Do you know about the best fast food spot in the world? All American Burger Massapequa only has one location, which is what makes it so special.
The United States population consumes nearly 50 million cheeseburgers yearly. In other words, 3 cheeseburgers a week for every person in the country. Now you may be asking, isn't 3 cheeseburgers a week a lot? Well, if you live near All American Burger in Massapequa, New York, thats nothing!
So Why Would I Eat More Cheeseburgers If I Had All American Massapequa Near Me?

It's simple, All American Massapequa provides great tasting food at the cheapest prices you will find almost anywhere! Menu standouts include the quarter pounder with cheese, double double, french fries, onion rings, and of course their shakes! They explain it best themselves; "All American Food at All American Prices".
All American Burger Nutrition Facts
Although there is no public nutrition information available about All American Burger Massapequa, we did some digging to provide you with the closest estimates possible of some popular items on the All American Burger menu. However, please keep in mind since these are just comparative estimates, they are not 100% accurate.

Quarter Pounder With Cheese/Quarter Pounder
Since the weight of the burger is given to us (1/4 pound) we are able to compare the nutrition information with other quarter pounds cheeseburgers from chains who provide their nutritional information online. The most appropriate comparison for All American Burger would be McDonalds, so thats what we did. Per McDonald's website, a Quarter Pounder with Cheese has 530 calories, 27 grams of fat (13 of which are saturated fat), and 1,090 milligrams of sodium. If you remove the cheese, McDonalds lists a standard quarter pounder with 417 calories, 20 grams of fat (7 are saturated fat), and 730mg of sodium.
Source: https://www.mcdonalds.com/us/en-us/about-our-food/nutrition-calculator.html
Cheeseburger/Hamburger
Although a standard cheeseburger doesn't give the weight of the patty in its name, it's safe to assume it's relatively the same size as the McDonalds standard cheeseburger. Therefore, we will once again use McDonalds as a reference. The standard McDonalds cheeseburger contains 313 calories, 14 grams of fat (5 of which are saturated), and 745mg of sodium. Remove the cheese, and you are left with 250 calories, 10 grams of fat (3.3 are saturated), and 469mg sodium on a standard burger.
Source: https://www.mcdonalds.com/us/en-us/about-our-food/nutrition-calculator.html

Hot Dog Nutrition Information
Hot dogs are another staple of the All American Burger Massapequa menu. Luckily, hotdogs and their buns come in a pretty standard size, so a calorie comparison to New York's own Nathans should be pretty accurate. Nathan's hot dog comes in at 160 calories, and 130 calories for the bun. So it's safe to say the total calorie count for an All American Burger hotdog is somewhere between 290-300 calories as well.

Source: https://www.nathansfamous.com/uploads/nutrition-info.pdf
All American Burger Massapequa French Fries Nutrition Facts

All American Burger Massapequa offers 2 sizes of fries. To be on the safe side, we compared the calories to the medium and large size fries from McDonalds and came to this conclusion.
McDonalds Medium (All American Regular Order) – 340 calories
McDonalds Large (All American Large Order )- 510 calories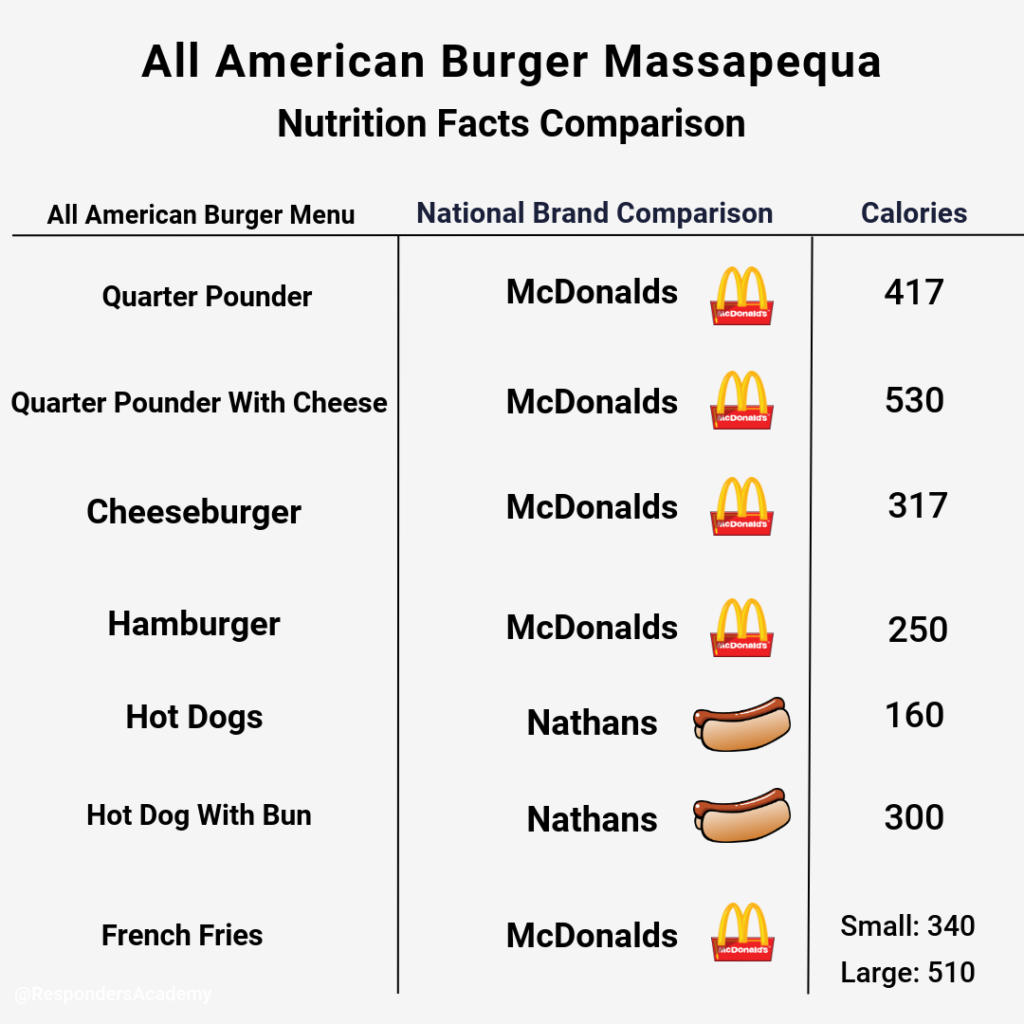 Once again, take these numbers with a grain of salt as we don't have the actual All American Burger Massapequa nutrition facts .
What Are The All American Massapequa Hours?

Saturday: 10AM – 10PM
Sunday: 11AM – 9:30PM
Monday: 10AM – 10PM
Tuesday: 10AM – 10PM
Wednesday: 10AM – 10PM
Thursday: 10AM – 10PM
Friday: 10AM – 10PM
Saturday: 10AM – 10PM
Sunday: 10AM – 10PM
All American Burger Menu

If you are not from Massapequa, or even Long Island, you may be wondering what All American Burger serves its loyal customers. What makes All American Massapequa so great, is that they only offer a select amount of options, and each of them are delicious.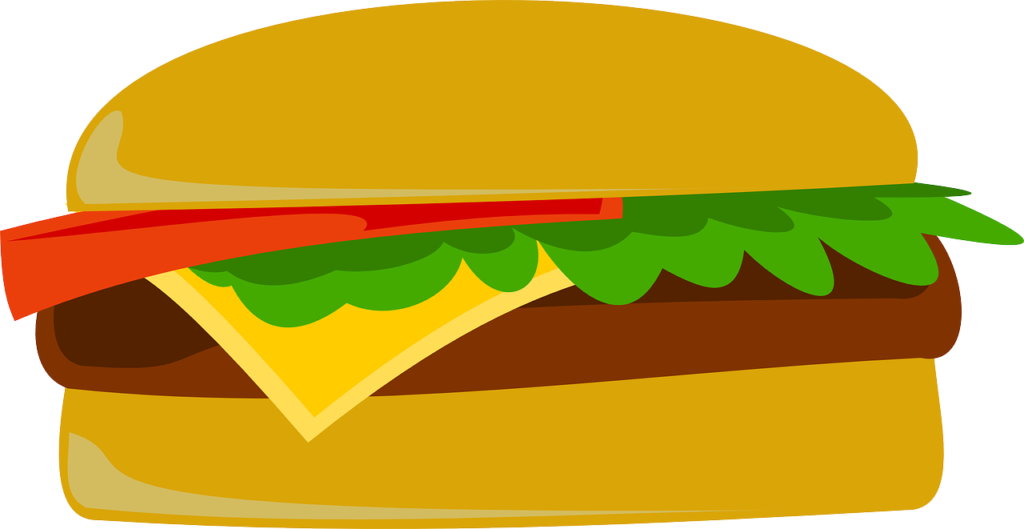 For your convenience, we listed the entire menu here:

DOUBLE CHEESEBURGER
DOUBLE HEADER
QUARTER POUNDER
QUARTER POUNDER WITH CHEESE
HAMBURGER
FISH FILET
Grilled Cheese
TUNA ON A BUN
FRANKS (ALL BEEF)
BUTTERFLY SHRIMP
CHEESEBURGER
DOUBLE CHEESEBURGER
DOUBLE HEADER
QUARTER POUNDER
QUARTER POUNDER WITH CHEESE
HAMBURGER
CHEESEBURGER
FISH FILET
GRILLED CHEESE
TUNA ON A BUN
FRANKS (ALL BEEF)
BUTTERFLY SHRIMP

Sides and Drinks
FRENCH FRIES
ONION RINGS
HOT KNISH
FOUNTAIN DRINKS- Coke, Diet Coke, Root Beer, Dr. Pepper, Sprite, Hi-C, Pink Lemonade, Iced Tea
DASANI BOTTLED WATER
HOT CHOCOLATE
MILK – HALF PINT

Because All American Burger can change their prices on a moment's notice, we did not include them on this menu. You can find a menu that includes prices here.
Ready To Make The Trip To All American Massapequa?
Located on directly Merrick Road, there are several routes you can take to get to All American Burger depending on where you are coming from. Since we are from Massapequa we don't need directions, but if you do, the address is 4286 Merrick Rd, Massapequa, NY 11758.
Pro Tip- If there are no spots in the parking lot, be sure to look for a spot on the parallel blocks instead.

All American Burger Massapequa Frequently Asked Questions
Q. I've been living on Long Island for almost 30 years and have not been able to buy food here because the lines are always out the door and there is no parking available. When is the easiest time to get food here?

Something that Massapequa locals know is that there are 4 lines inside! The wait time will almost never be as long as you think because food is constantly being made and served fresh.

Q. Does All American have seating?
No seating inside, but tables are located in front of the restaurant. There are benches to sit along the sides of the building as well if the tables are full.

Q. When did all American Burger open?
All American burger Long Island was founded in 1963.
Q. How old is All American Burger?
All American Burger Massapequa first opened its doors in 1963, which makes it over 55 years old! Thanks for supplying the community with great food at affordable prices