Massapequa Preserve, also known as the Peter J. Schmitt Preserve, is 423 acres of land located in the center of Massapequa beginning at the intersection of Ocean Ave and Merrick Road. These undeveloped acres of land feature woodlands, lakes, and freshwater wetlands that border Massapequa Creek and stretch for about 4 miles to the South Farmingdale border.

Massapequa Preserve is the largest passive use park in Nassau County, and is considered one of the most beautiful by many local residents. Its beauty is maintained by several volunteer groups and organizations that work to maintain the natural ecosystems in the area. 
We would like to thank these numerous individuals who work hard to make sure the Massapequa Community has such a great place to enjoy our beautiful town.
Massapequa Preserve History
Massapequa Preserve was originally part of the New York City water supply property and was acquired by Nassau County in 1981. Currently, it is being managed by the Nassau County Department of Recreation and Parks.

Massapequa Preserve Map
Long Island Preserves are a great way to sightsee, get exercise, and take photography. Since Massapequa Preserve is so large, many people (locals included) actually end up lost! Although some people go in the woods to escape from the suburban streets for a while, getting lost can easily turn a nice relaxing walk into a negative experience. 
We have provided a picture of the Massapequa Preserve Map of Trails below. This trail guide covers the dirt roads and footpaths within the Massapequa Preserve, as well as the Long Island Greenbelt Trail and Bethpage State Park Bike Path.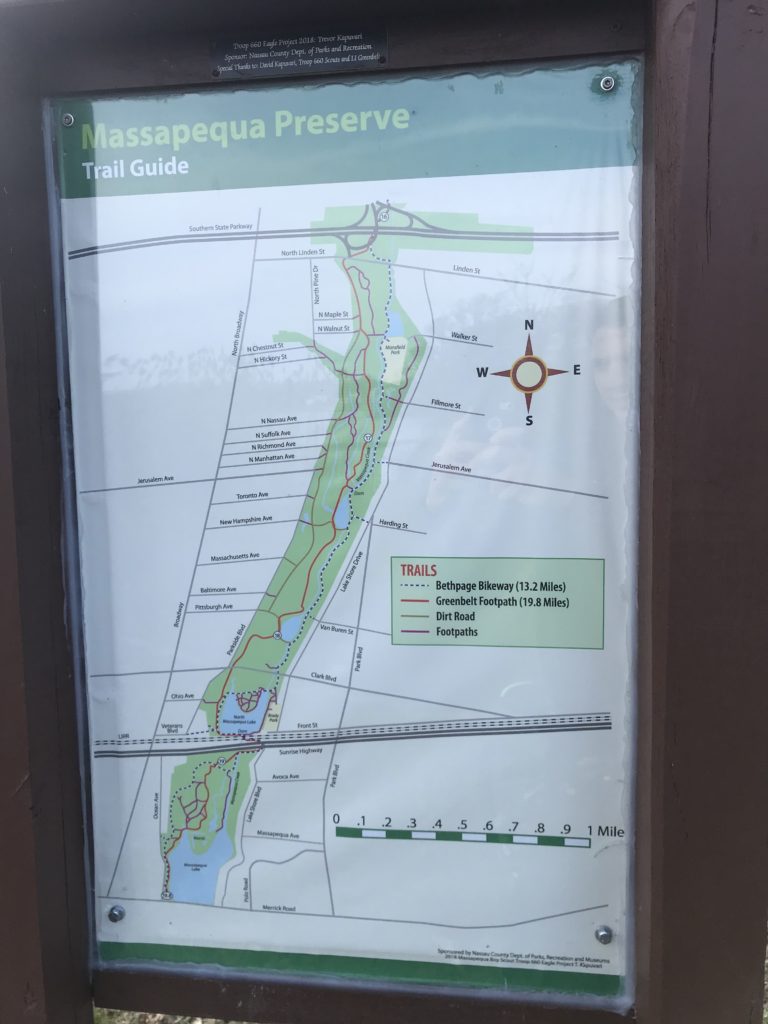 Massapequa Preserve Animals
Massapequa Preserve is home to several types of wildlife. As someone frequents the preserve, common animals to see are birds, squirrels, chipmunks, snakes, raccoons, and rabbits.
There are many species of birds to be found inside the preserve as well. You will find multiple species of the common regional birds, but if you are lucky you may see Robbins, Cardinals, or Blue Jays.
Pro Tip: Caterpillars strings hanging down from trees on top of the trail in the summer can be a real annoyance when biking. Be sure to wear sunglasses to avoid getting the strings in your face!
Massapequa Reservoir Fishing

Massapequa Preserve offers multiple small bodies of water to explore, including a reservoir. The Massapequa Reservoir is known to be a popular fishing spot and may be the most heavily fished pond on Long Island. This is due to the routine stocking of trout that happens twice a year.

Massapequa Reservoir is stocked with brown and rainbow trout in the spring and fall which draw crowds of people around these times.  Other common fish to catch in the Massapequa Reservoir include Largemouth Bass, Trout, Sunnies, Carp, Catfish, and Pickerel. Local fishers enjoy the easily accessible bodies of water that they can get to within minutes from their house. 
Massapequa Reservoir Fishing Information
Physical Features of Massapequa Reservoir Include:

Maximum Depth: 6 feet
Elevation: 6 feet
Shoreline Length: 4910 feet
Area: 20 Acres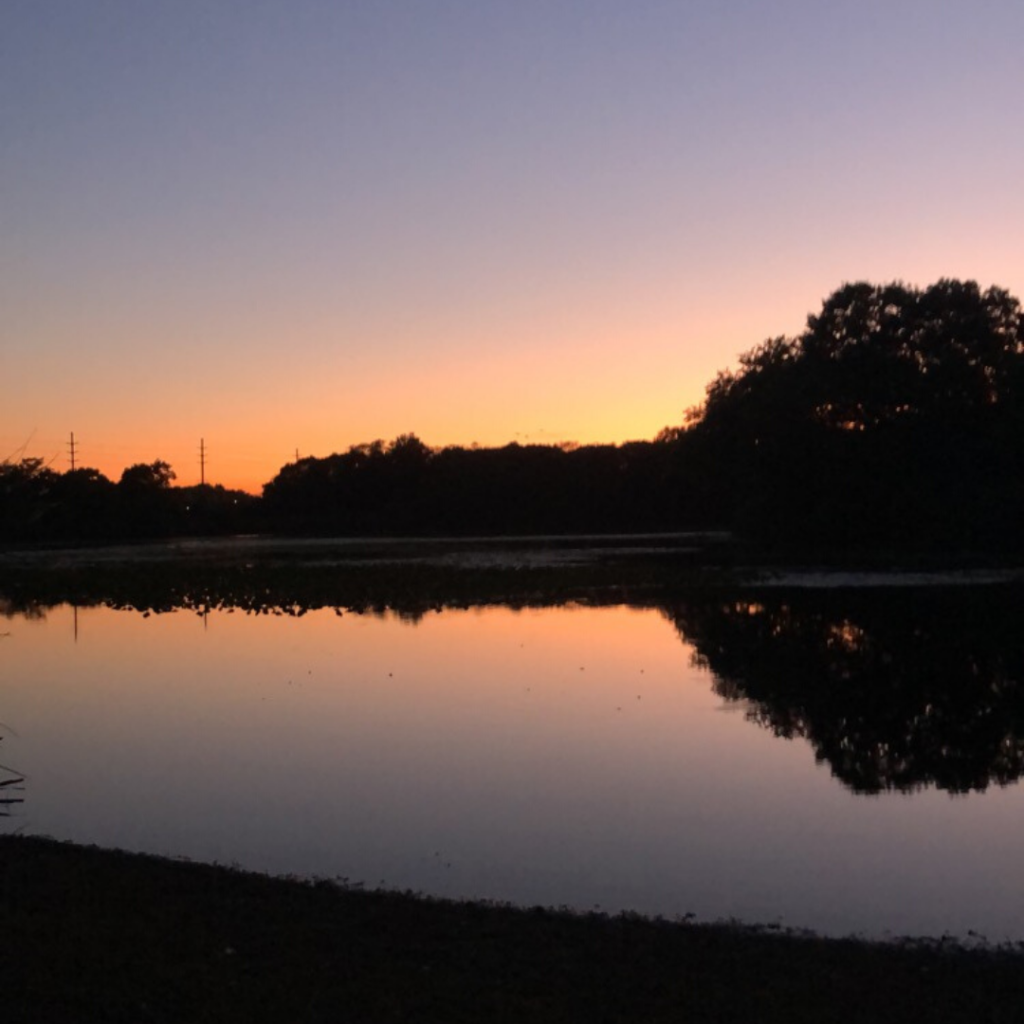 Massapequa Reservoir Map
Massapequa Reservoir is located south of Clark Street and north of Sunrise Highway. It is bordered on the east by Lake Shore Drive and on the West by Parkside Boulevard. If you are commuting by car, you can find parking along Lake Shore Drive or in a turn-off area parking lot off of Sunrise Highway just east of the Massapequa train station. Additionally, you can take the train to the Massapequa station of the LIRR Babylon Branch.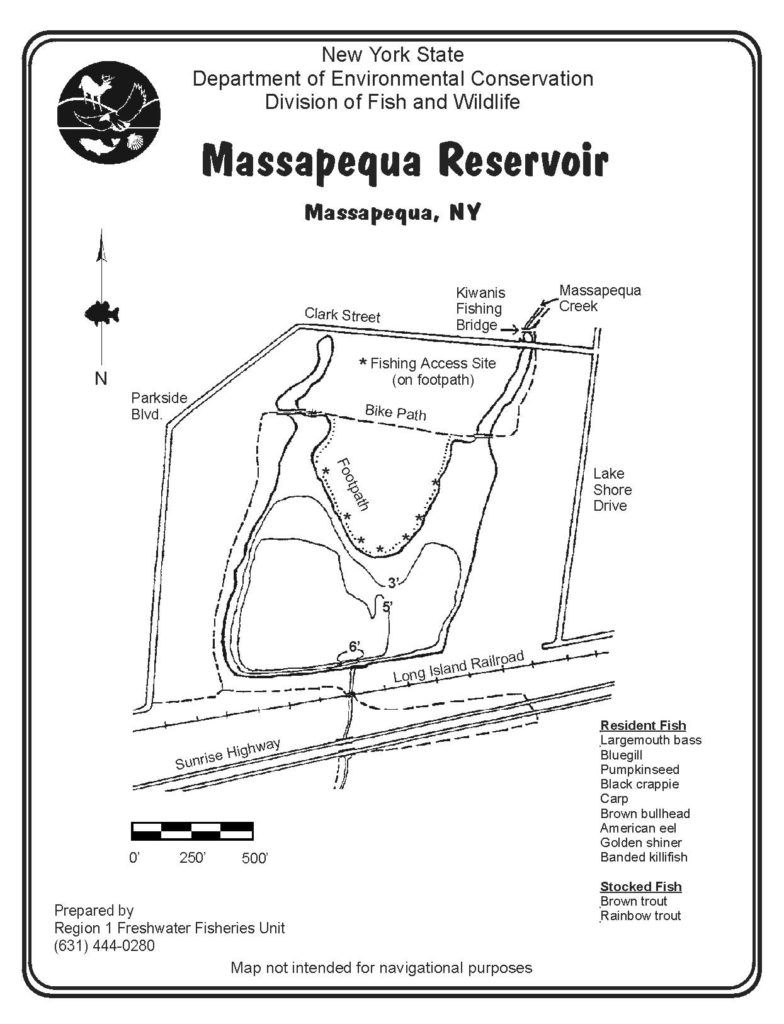 Massapequa Preserve Trail Guidelines
When entering the preserve, you will encounter many signs indicating appropriate and inappropriate behavior.  Many of these guidelines are enforced to benefit the wildlife and natural ecosystems found within the Massapequa Preserve, such as the southern pine beetle. For your convenience, we have provided pictures of the signs found at the beginning of the Massapequa Preserve Trail on Ocean Avenue so you can enter at any point and be aware of the guidelines.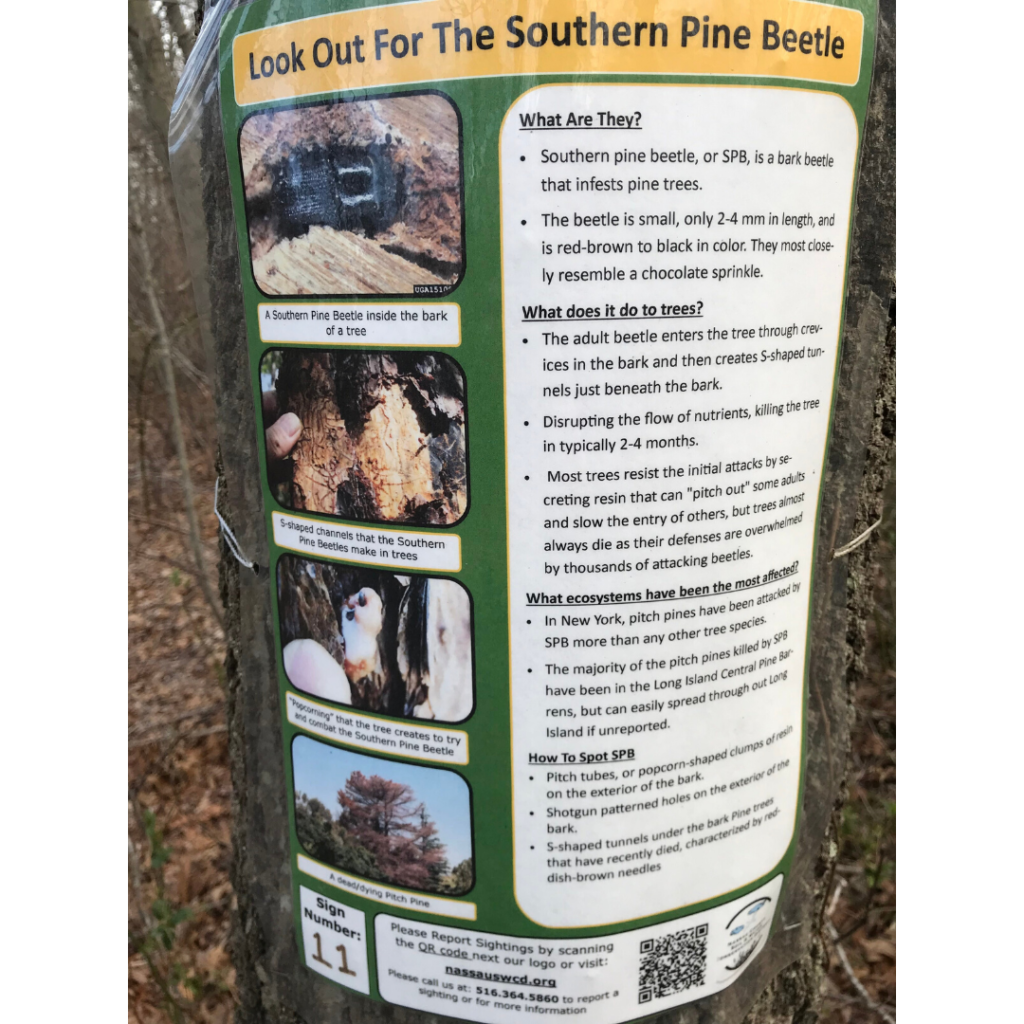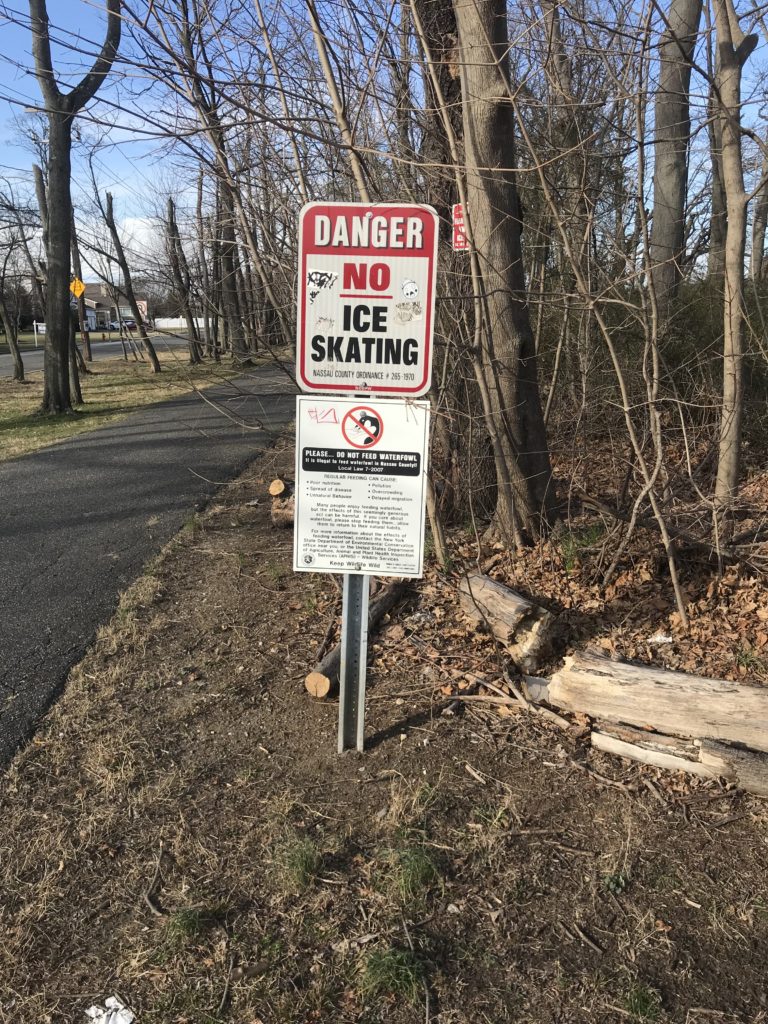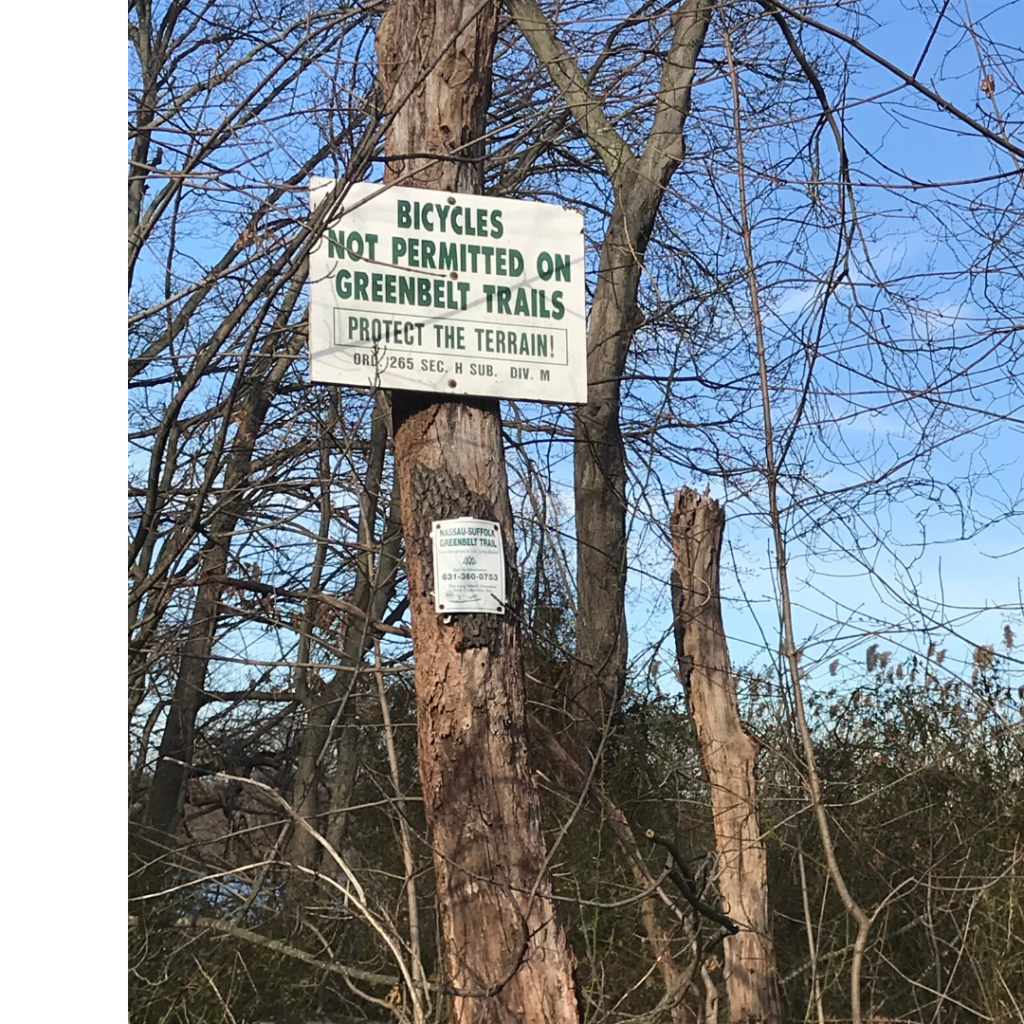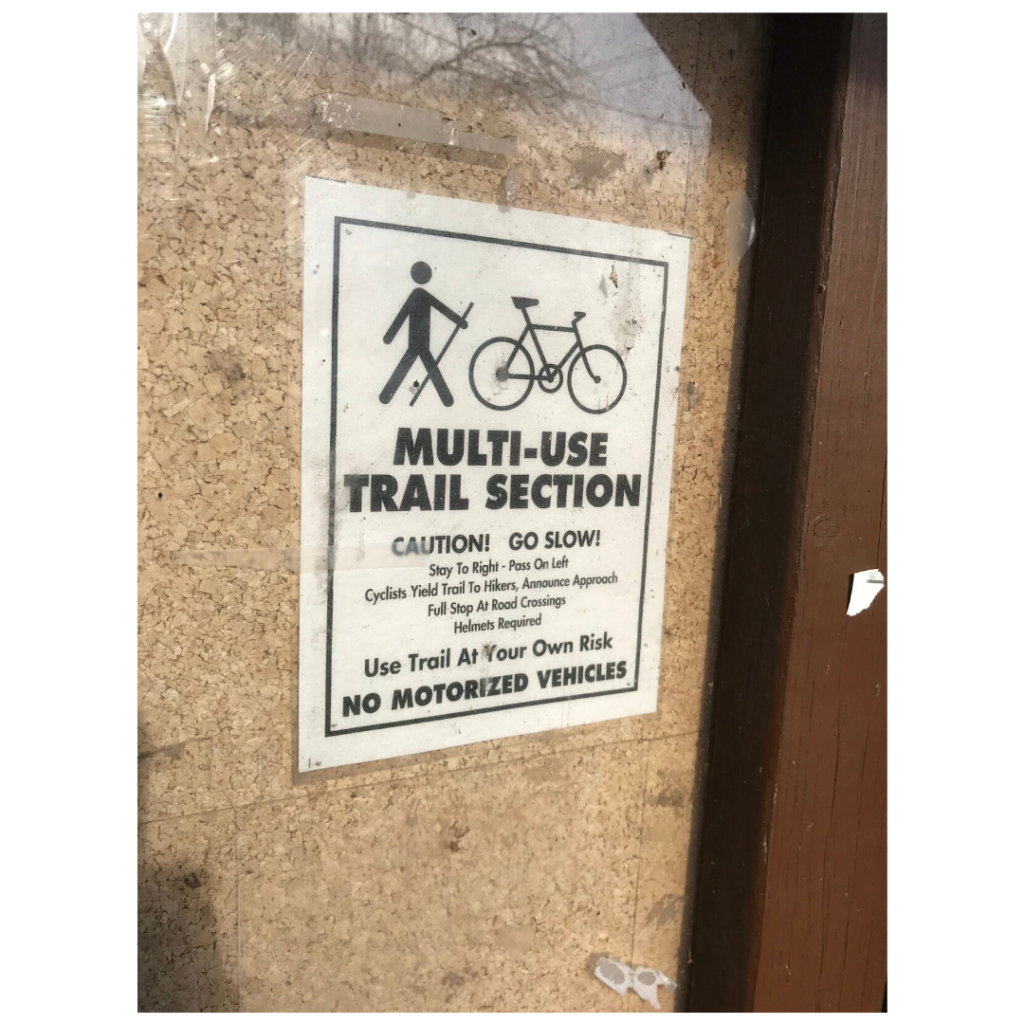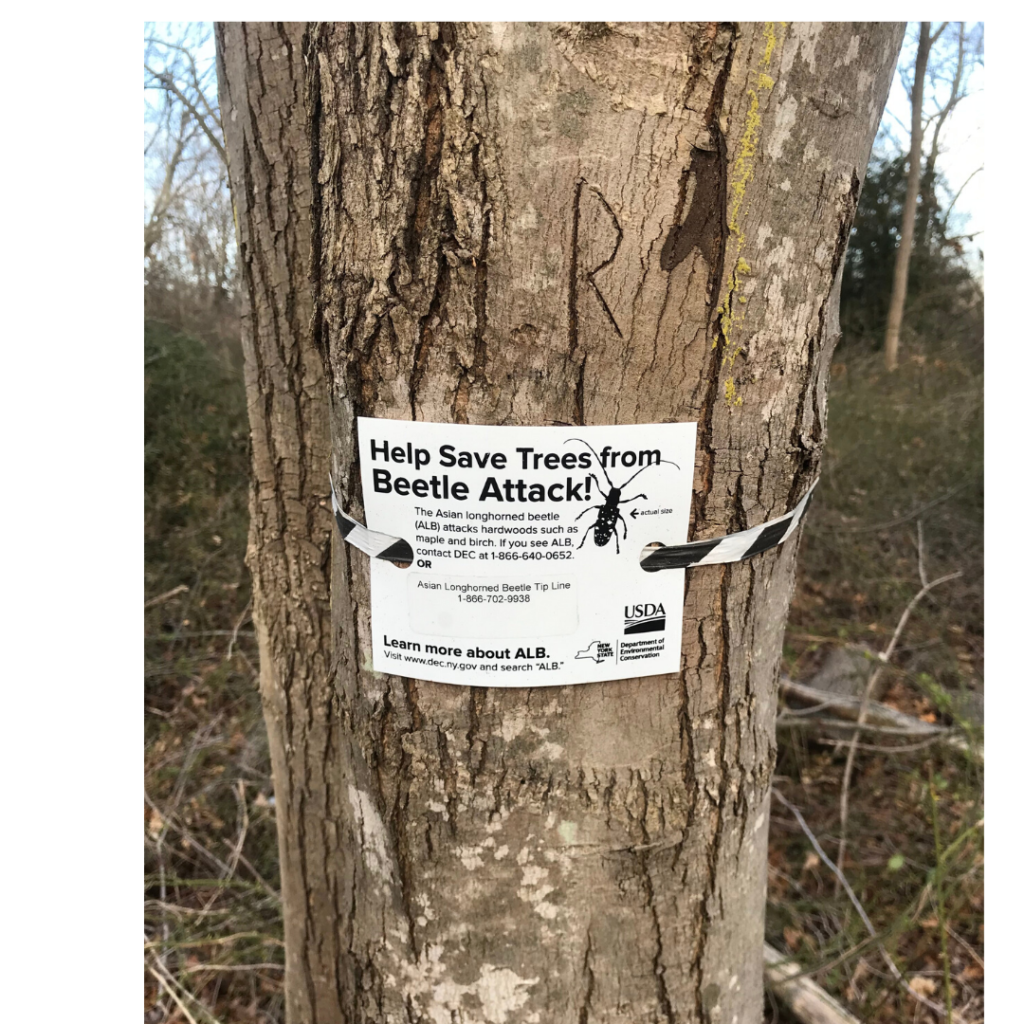 Massapequa Preserve Frequently Asked Questions
When was the Massapequa Reservoir stocked in 2016?
Massapequa Reservoir is stocked in the spring and fall yearly with trout.
Where is Massapequa?
Massapequa is located in Nassau County, Long Island, New York. It is bordered by Amityville on the east and Seaford on the west. It is about a one hour ride to New York City on the Long Island Railroad